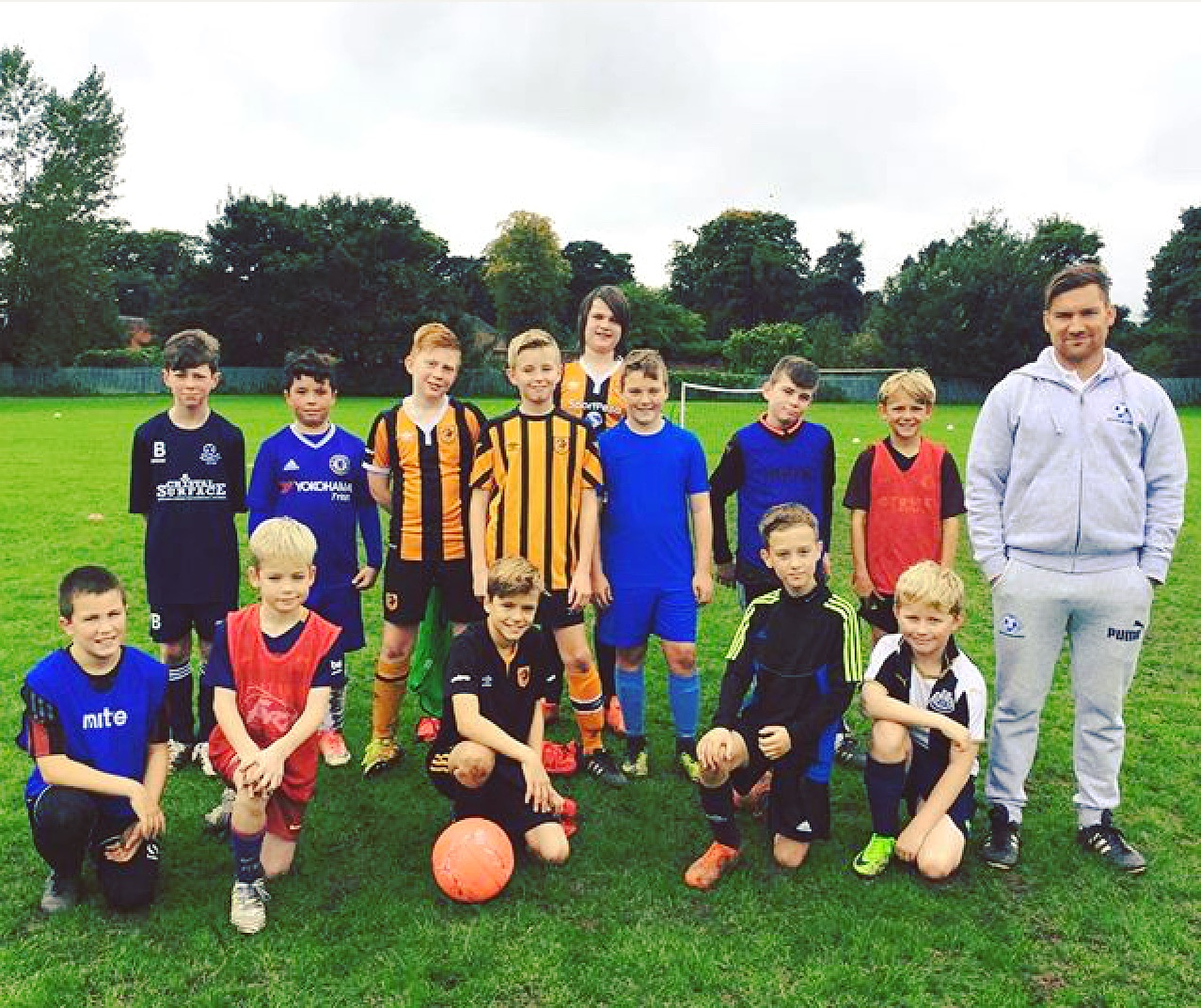 Coach Owen with some of our Advanced Skills players
---
Hi all! It's a new academic school year, and with it comes another year for all at HFSA. We are proud to say that we celebrated our fourth birthday on 6th September AND this is our 1st Anniversary of our monthly profiles. In honour of this, we have decided to cover our very own Coach, Owen Taylor, in this month's In the Spotlight. Read on to find out a little more about him!
---
1) Tell us a little about yourself ~ I am 40 years old and I've been coaching football since 2002. I've coached on 3 different continents. Midweek, I'm a Sports Coach in various schools. I am a Dad to 2 children, Ellie & Henry. Currently, Ellie doesn't but Henry does have a little interest in football!
---
2) Which team do you support? ~ Tottenham Hotspur
---
3) Who are your 3 footballing heroes? ~ Diego Maradona, Johan Cruyff and Paul Gascoigne
---
4) How old were you when you first showed an interest in football? ~ I was about 3 or 4 years old but I didn't really start playing until 8 years old
---
5) What made you want to start up HFSA? ~ I wanted to project my own ideals into football coaching. I found other schools were more restrictive in what they taught, and I wanted to encourage a more skill-based, less rigid way of playing
---
6) What is your favourite football skill that you can do? ~ Brazillian Juggles
---
7) What is your favourite football skill that you wish you COULD do but CAN'T? ~ I actually can't do the Rainbow Flick!
---
8) As a coach, what do you enjoy most about the Academy sessions? ~ I love to see the progression of each and every one of the kids. I get a real boost seeing the kids move up to the next group
---
9) How do you like to keep fit? ~ Gym and Running. And also football of course
---
10) Do you still play football regularly? ~ Yes! After a short retirement, I decided I missed it and now I play for Reckitt's Veterans
---
11) What is your defining moment in sport, personally? ~ I once scored the perfect hattrick; left foot, right foot, header!
---
12) What is your defining moment in sport, as a spectator? ~ Watching Hull City go 2-0 up against Arsenal in the FA Cup Final
---
13) Do you enjoy watching/playing any other sports? ~ I enjoy playing Dodgeball, Tennis, Cricket. I enjoy watching Rugby League, particularly Hull KR
---
14) Where do you see yourself in 10 years from now? ~ Hopefully, doing the same job; teaching sports to children. I would also like to see the Academy continue to grow from strength to strength
---
15) Would you like to say anything to our HFSA family in celebration of our 4th birthday? ~ I would like to say a huge thanks to all of you for coming along to those first sessions and sticking with us. It's great to see so many people have settled in and made (hopefully) life-long friends at HFSA, and I look forward to seeing you all grow
---
Just to put things into perspective, many of the HFSA have been taught by Owen for several years (obviously pre-HFSA) and still come now, working with us alongside their own team training. Due to growth of the Academy and more and more interest from parents of younger children, we are also about to launch our very own Little Feet sessions. This means we will shortly be taking children as young as 2 years old. This is testament to the skills Owen shares, the dedication from the children and the massive support from all of our parents. Lifelong friendships are occuring right before our eyes; we really are like a little football family. Happy 4th birthday to all of you!
---