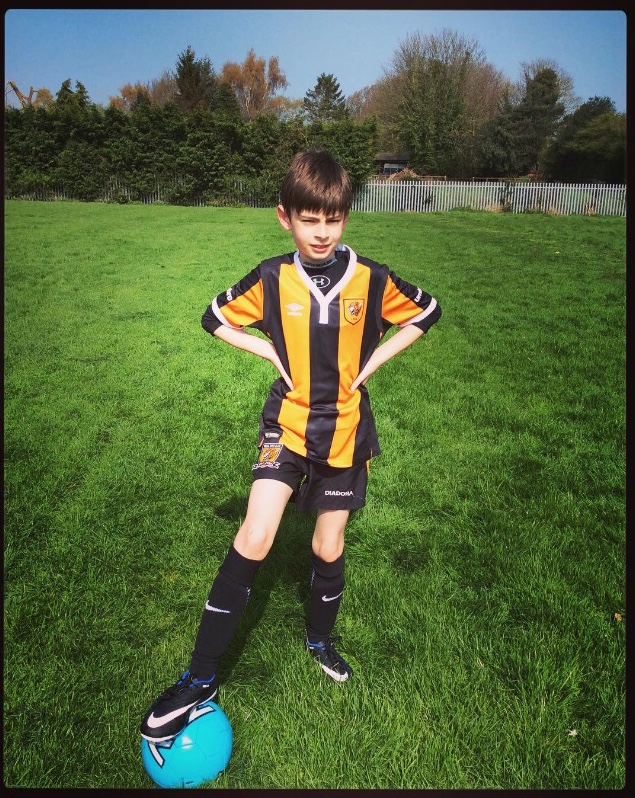 ---
Goodbye April, Hello May! And hello to this months Spotlight Member, Frazer Harness!
---
1. How old are you? ~ I am 9 years old
---
2. Tell us about you and your family: ~ I live in Cottingham with my mum, dad and sister. I go to Bacon Garth Primary School and I love football, both playing and watching. My Dad works in construction and my mum works for the NHS
---
3. Who is your favourite football team? ~ Grimsby Town FC
---
4. Who is your favourite footballer? ~ Siriki Dembele (Dembele who plays for Grimsby, not Dembele who plays for Tottenham!)
---
5. How did you first hear about Hull Football Skills Academy ~ I heard about the Academy through a letter I received from my school
---
6. When did you start your football journey with the Academy? ~ I started with the Academy in September 2016
---
7. What made you stick with HFSA? ~ I really enjoy the mixture of work we do, from learning all different types of skills to playing football matches. The coaches are very helpful and are always encouraging me. I have become a much better player since I started
---
8. Do you play football in a team? ~ Not yet. But looking to in the future
---
9. Do you have any other hobbies? ~ I like playing Cricket, going to football matched and playing on my PS4
---
10. What do you think is the best part of your academy sessions? ~ The best part of the academy sessions for me is learning new skills and playing matches
---
11. What is your favourite football skill, and can you do it? ~ My favourite skill is the ball roll and the Cruyff turn. I can do both
---
12. What other activities would you like to see at HFSA? ~ I can't think of any
---
13. What advice would you give to someone new wanting to join us? ~ I would say, give it a try, don't be nervous as everybody is really friendly and enjoy yourself
---
We asked Dad, Mike if you wanted to add anything and, he told us: ~ I would like to thank all the people involved in the running of the Academy personally for all their hard work they do. Frazer really enjoys the sessions and it has improved his self-confidence no end. Keep up the good work
---
Our thanks go to Frazer and Mike for taking part in our Spotlight feature. Frazer is a pleasure to have as part of the HFSA family, and his skills have matured immensely since he first joined the Academy. This is proven by the many times he's won Legend of the Week! Well done Frazer. Grimsby Town would be proud!