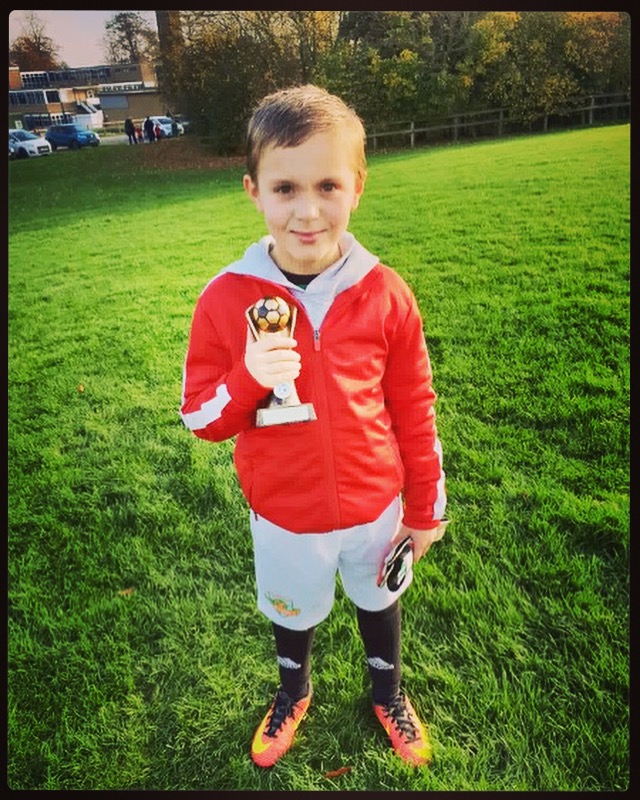 ---
Welcome to the year 2019! We hope you all had a wonderful time celebrating Christmas and the New Year - we did! With January comes fresh hopes and plans for the coming months AND a new Spotlight article (hooray!). This month, please say hello to Oliver Bailey who attends our Intermediate Skills session. He tells us all about himself below:
---
1. How old are you? ~ I am 9 years old
---
2. Tell us about you and your family: ~ I live with my mummy and my sister is Maddison who is 5
---
3. Who is your favourite football team? ~ I dont have a favourite team. I like watching all football
---
4. Who is your favourite footballer? ~ Harry Kane
---
5. How did you first hear about Hull Football Skills Academy? ~ I saw the advertisement on Mr Taylors car after Dodgeball one night, so I asked my mum if I could join (Editor's note: Owen is a Sports Coach in several Hull schools)
---
6. When did you start your football journey with the Academy? ~ 27th January 2018
---
7. What made you stick with HFSA? ~ The other boys and girls are nice and it makes me happy when I am there. I like all the different things we do on a Saturday
---
8. Do you play football in a team? ~ Not yet
---
9. Do you have any other hobbies? ~ Playing Dodgeball at school, playing with my hotwheel cars, playing on the beach and throwing stones into the sea!
---
10. What do you think is the best part of your academy sessions? ~ Learning new football skills and playing football games
---
11. What is your favourite football skill, and can you do it? ~ Scoring goals is my favourite thing to do. Yes I can score goals
---
12. What other activities would you like to see at HFSA? ~ More penalty shoot outs games
---
13. What advice would you give to someone new wanting to join us? ~ Its fun and you learn lots of new skills. The coaches are nice, and positive
---
Mum Danni told us: I had struggled for months trying to find Oliver a place he could go and be himself, learn new football skills and try and develop his social skills with other children. He has now found a place with HFSA. He can play football and is learning new skills all the time and actually understanding what is expected of him in the session. The coaching team are amazing with all the children and their positive attitude towards the children's development is clear to see at every session. HFSA has really helped Oliver in developing his social skills, and this has helped him become more confident when it comes to playing alongside other children. Oliver enjoys each session and really has developed in such a positive way in the year that he has been with the Academy. Thank you
---
We think this is a really lovely article by Oliver. We loved that his hobbies include throwing stones into the sea! Oliver rarely misses a session at HFSA and it's clear he really feels a part of the family, which of course he is! Massive thanks for finding us Danni, and for your very kind words. It is always a pleasure to have Oliver, and we are sure he will continue to go from strength to strength.