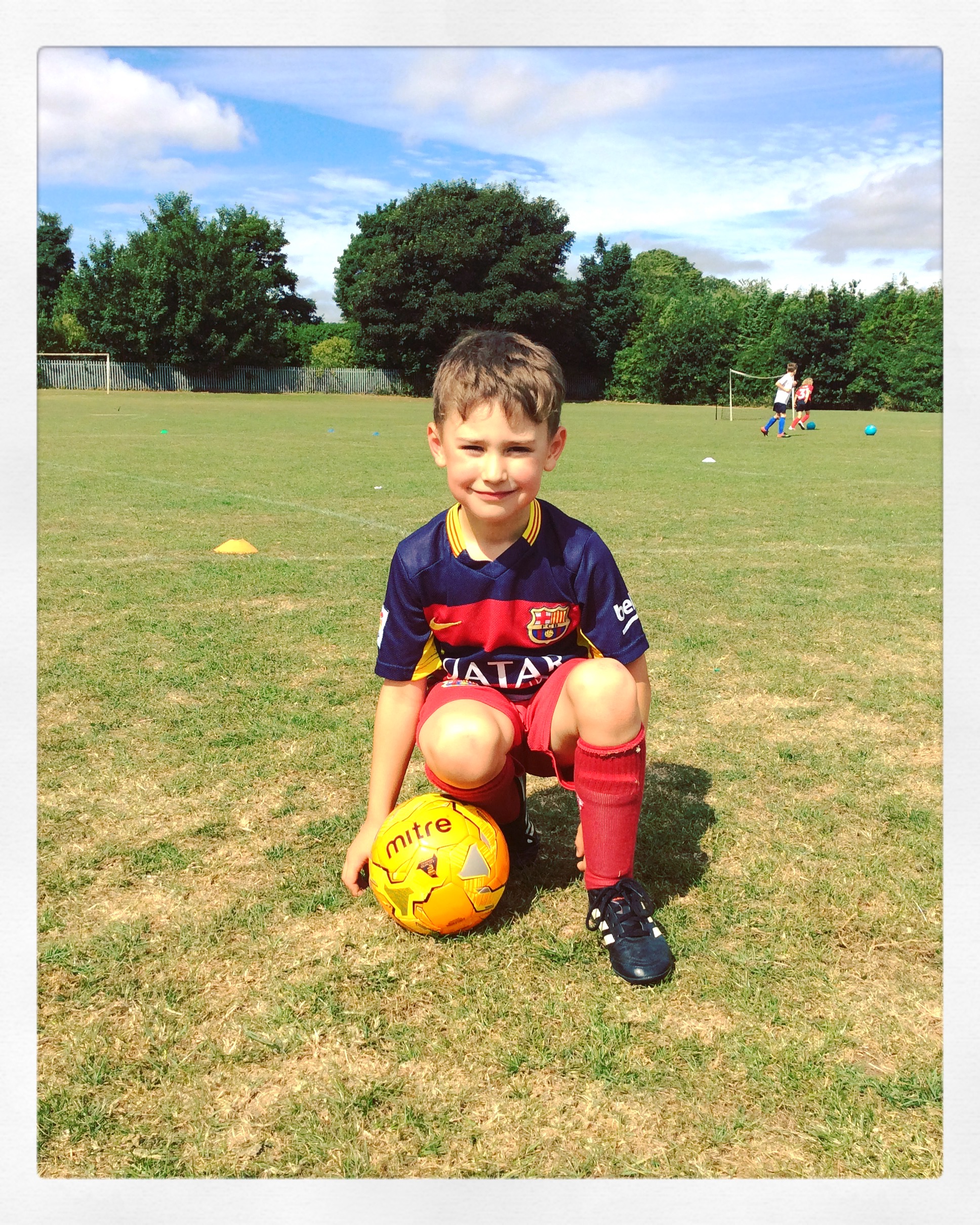 Hi everyone! Here is our July Spotlight article, just in time to celebrate the end of another school year! We hope you have a wonderful school break, and we hope to see lots of you in August at one of our Wednesday Summer Camps (scroll for further info). In the meantime, please say a big, fat hello to one of our regulars. Here is Benedict Lee and he would like to share his story with you below:
1. How old are you? ~ I am 5 years old
2. Tell us about you and your family: ~ I live with my Mum (Hannah), Dad (Neil) and little brother Edward (Teddy) who is 2. We moved to Hull from Leeds in 2016. Edward will be joining HFSA when he is 4
3. Who is your favourite football team? ~ Liverpool (not Spurs!)
4. Who is your favourite footballer? ~ Mo Salah
5. How did you first hear about Hull Football Skills Academy? ~ My dad found out about HFSA on google. When we moved to Hull we were looking for football sessions I could play in. I had played every Saturday in Leeds and wanted to carry on playing
6. When did you start your football journey with the Academy? ~ September 2016
7. What made you stick with HFSA? ~ Owen trains us in skills - he doesn't just play games. HFSA is also a lot of fun and I like Coach Owen
8. Do you play football in a team? ~ Not yet
9. Do you have any other hobbies? ~ Swimming, watching movies (Marvel & Star Wars), Riding my bike, Singing & Dancing
10. What do you think is the best part of your academy sessions? ~ I really enjoy King of The Ring and the one on one games. I also like playing the five aside games at the end
11. What is your favourite football skill, and can you do it? ~ I like balancing the ball on my feet, kicking it up in the air and then catching it. I practice in the garden with my dad as well and like to dummy him
12. What other activities would you like to see at HFSA? ~ I enjoy everything that we do, I cant think of any way it could be any better
13. What advice would you give to someone new wanting to join us? ~ You will be given a warm welcome at HFSA by Owen, Leah and all the other kids
We asked proud Dad, Neil if he had anything to add to Benedict's comments. He told us: ~ There is an amazing atmosphere at HFSA where all the parents get along and the new children are given a warm welcome by Owen and the team. Benedict had tried other football sessions in Hull, but the structure was not as good as HFSA and the groups were too large. Everything about HFSA is structured so the children not only enjoy themselves but also learn
Benedict, thank you so much for agreeing to tell us all a little about you and your family. We are always happy to see you at the Academy with your smiley face. You work very hard and we can see you gaining confidence every week. Have a great holiday season!